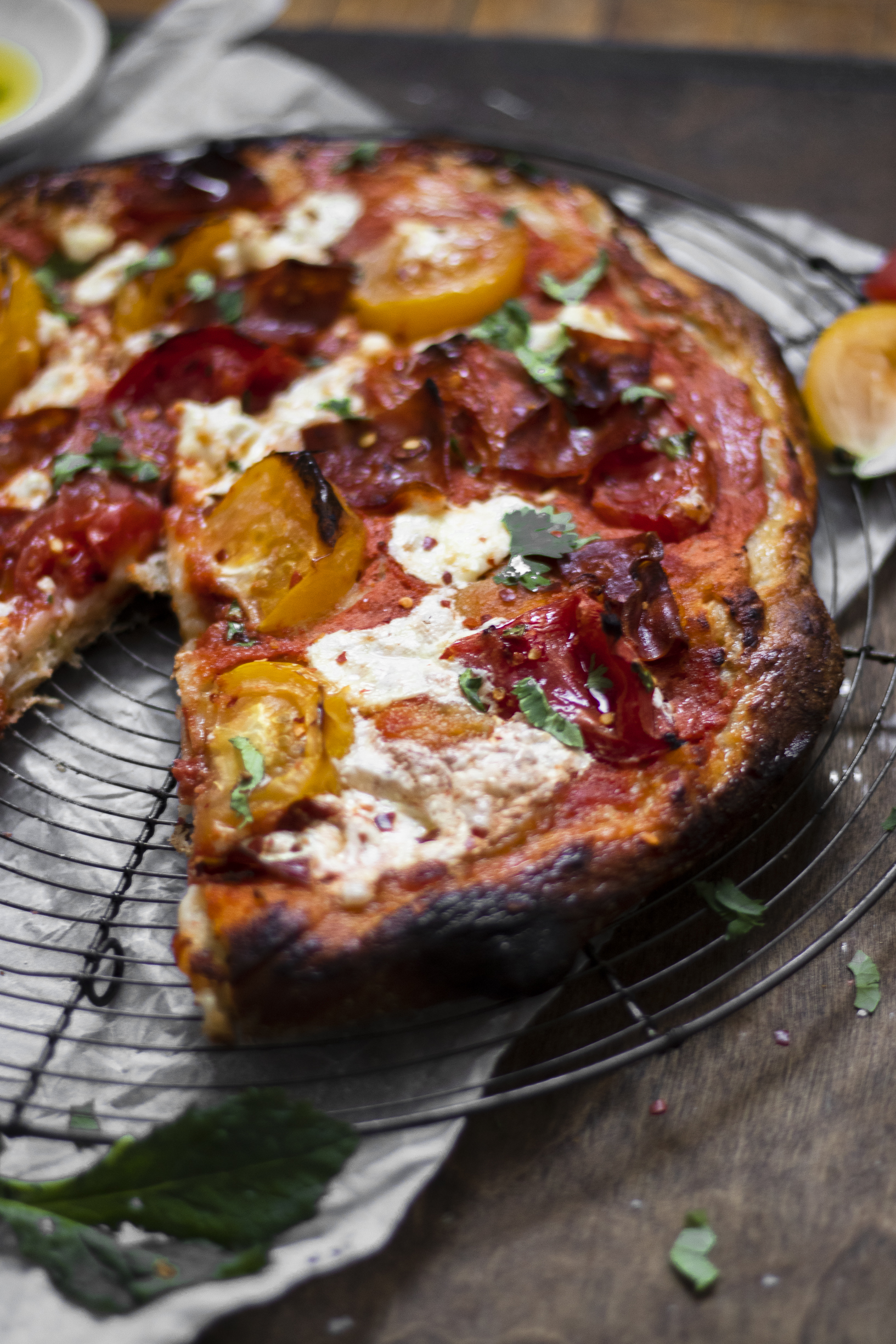 As much as I love to make everything from scratch, sometimes its just not possible. Right now life has been a little crazy for me in terms of work. I try to find the middle path and balance things out when it comes to grocery shopping and buying ingredients for our meals. Like I will never buy precut veggies because I am pretty fast at doing it myself at home. But when it comes to bread and salad leaves I will go for pre-made and pre-cut. And I absolutely love buying pre-made pizza dough from Trader Joe's, I always have a bunch in my freezer ready to go. This helps me get dinner on the table in less than 30 mins. For this recipe, I used juicy heirloom tomatoes that are very much in season right now with burrata cheese and fresh basil.
INGREDIENTS
1 pre-made pizza dough, trader joes
1 red heirloom tomato, sliced
1 yellow heirloom tomato, sliced
3-4 basil leaves
4-5 pepperoni slices
1 burrata ball
chilli flakes to garnish
olive oil to garnish
all-purpose flour to sprinkle for rolling dough
sea salt to sprinkle over
for tomato sauce
2 c canned crushed tomatoes
2 tbsp chopped garlic
1 tsp salt
1/2 tsp pepper
DIRECTIONS
To make tomato sauce – remove the crushed canned tomatoes in a bowl and add garlic, salt, pepper and give it a good mix.
Preheat oven to 450°F, on a floured surface, start spreading the dough into a circle now place this circle on a pizza stone.
Spread 2-3 tbsp of tomato sauce but leave 1/2 an inch of space around the corners.
Place tomato slices on the dough and then break the burrata and add in the spaces in between, add pepperonis slices on top.
sprinkle some chilli flakes and basil leaves
Bake in the oven for 15 mins
Pizza is done when the edges of the dough is slightly brown and crispy
Cut into eight slices and serve hot.