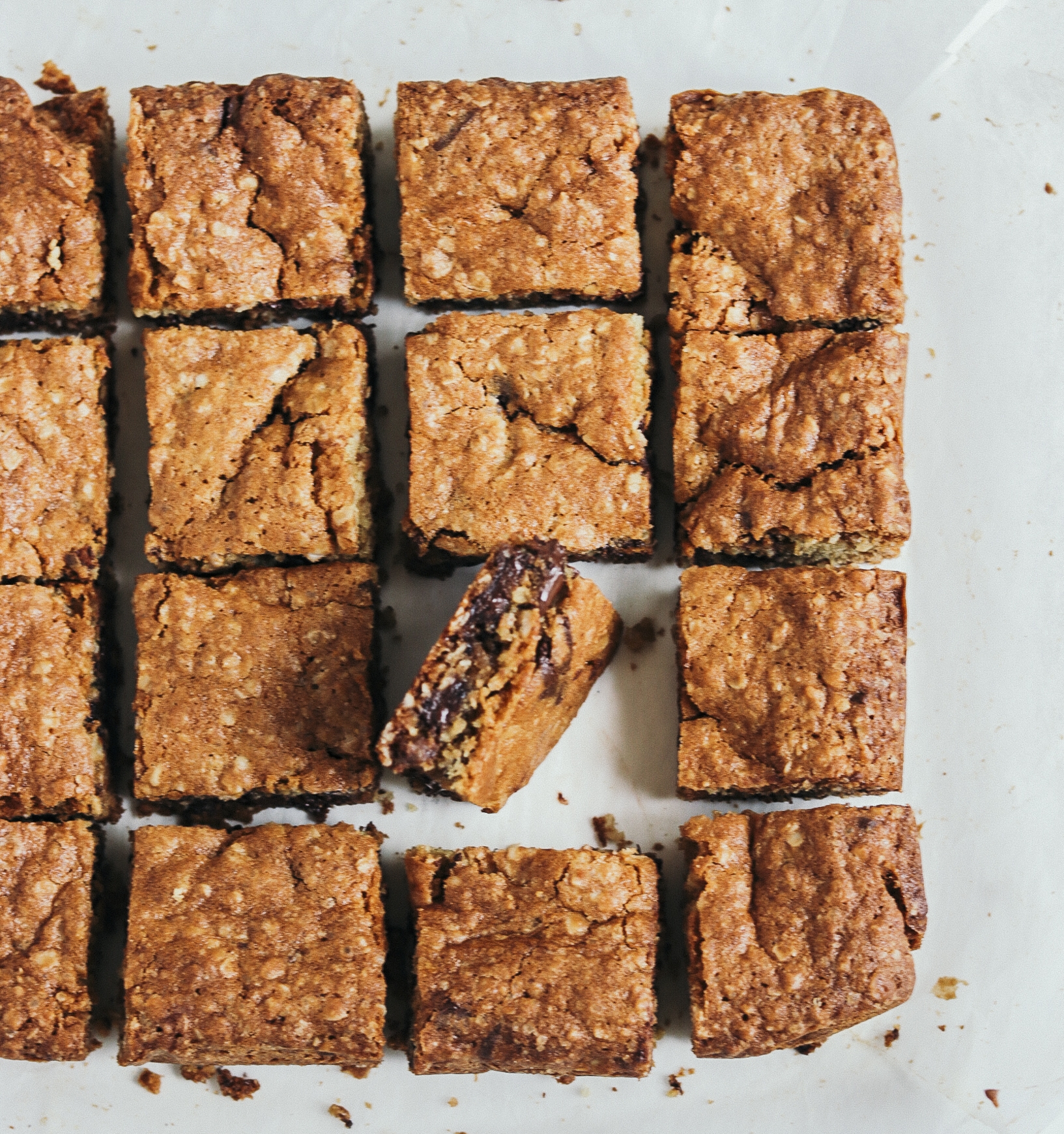 Whats better than a brownie? You may disagree but I think Blondies are unsung heroes of the Brownie/Bar world. Don't get me wrong, I love brownies but sometimes I want something a little on my palate and waist. That's where these uber delicious and easy to make blondies come in handy. So we got in a ton of Ghirardelli squares are work and I got some home so that I could do a little weekend baking with them. After rummaging my pantry for a bit I decided to make Dillon a treat! I like that this recipe uses only one egg. A thing I dislike the most while eating dessert is the eggy aftertaste towards the end on your palate. Whenever I put the words oats or healthy Dillon runs in the opposite direction… haha! But he really enjoyed these, so much so they barely made past four days. I hope you will try this recipe and tell me how it was!
INGREDIENTS
110 g all-purpose flour
1/2 tsp baking soda
1/4 tsp baking powder
113g unsalted butter
75 g granulated sugar
50 g light brown sugar
1 large egg, room temperature
1 tsp vanilla extract
3/4 tsp sea salt
1 cup old fashioned oats
10 squares of Ghirardelli Dark Chocolate Sea Salt Caramel Squares OR 5 ounces dark chocolate, roughly chopped
DIRECTIONS
Preheat oven to 350°F. Line an 8″x8″ square baking pan with parchment paper or you can brush with butter and dust some flour and set it aside.
In a mixer fitted with a paddle attachment, I use kitchen aid but you can also use a glass bowl and hand mixer. Cream the butter and sugars until light and fluffy, this takes about 4-5 minutes. Now add in the egg and vanilla extract and mix for 2 more minutes.
Freeze the Ghirardelli squares for 30 mins before chopping them so that they don't melt all over the place while you add it to the batter.
In a separate bowl, sift the flour, baking soda, baking powder, and salt. With the wet ingredients mixing on low speed, fold in the dry ingredients until almost combined.
The batter will be somewhat thick, this is normal
Remove from mixer and fold in oats and chocolate with a spatula. The mix will get even drier but don't panic this is normal
Spread batter into the prepared pan. Bake for 20- 25 minutes, or until a skewer comes out clean when inserted into the centre of the bars. I like to underbake just a little so that the bars are nice and gooey in the centre.
But every oven is different so I would watch the mix towards the end a little bit more.
They last for 4-5 days at room temperature, I like to zap them in the micro wave for few secs before eating so that the chocolate gets all melty! Yum!