I remember eating these Vegan Chickpea Omelettes as a kid when my mother wanted to give us a quick snack. She sometimes even got away with serving them as a whole meal with stir-fried vegetables for dinner. I will be honest that I did not like these Vegan Chickpea Omelettes very much when she first started making them. A very young me wondered why this omelette had no egg and why wasn't I eating it as a sandwich between two pieces of crispy toasted bread. My brother, on the other hand, was a toddler so he was spared… "how lucky" I thought. Cut to twenty years later I can devour four of these babies in one sitting, no problem!! Now the next task is to convince my husband Dillon (he is American) that this is a substantial omelette and no there is no egg but it just has delicious if not better.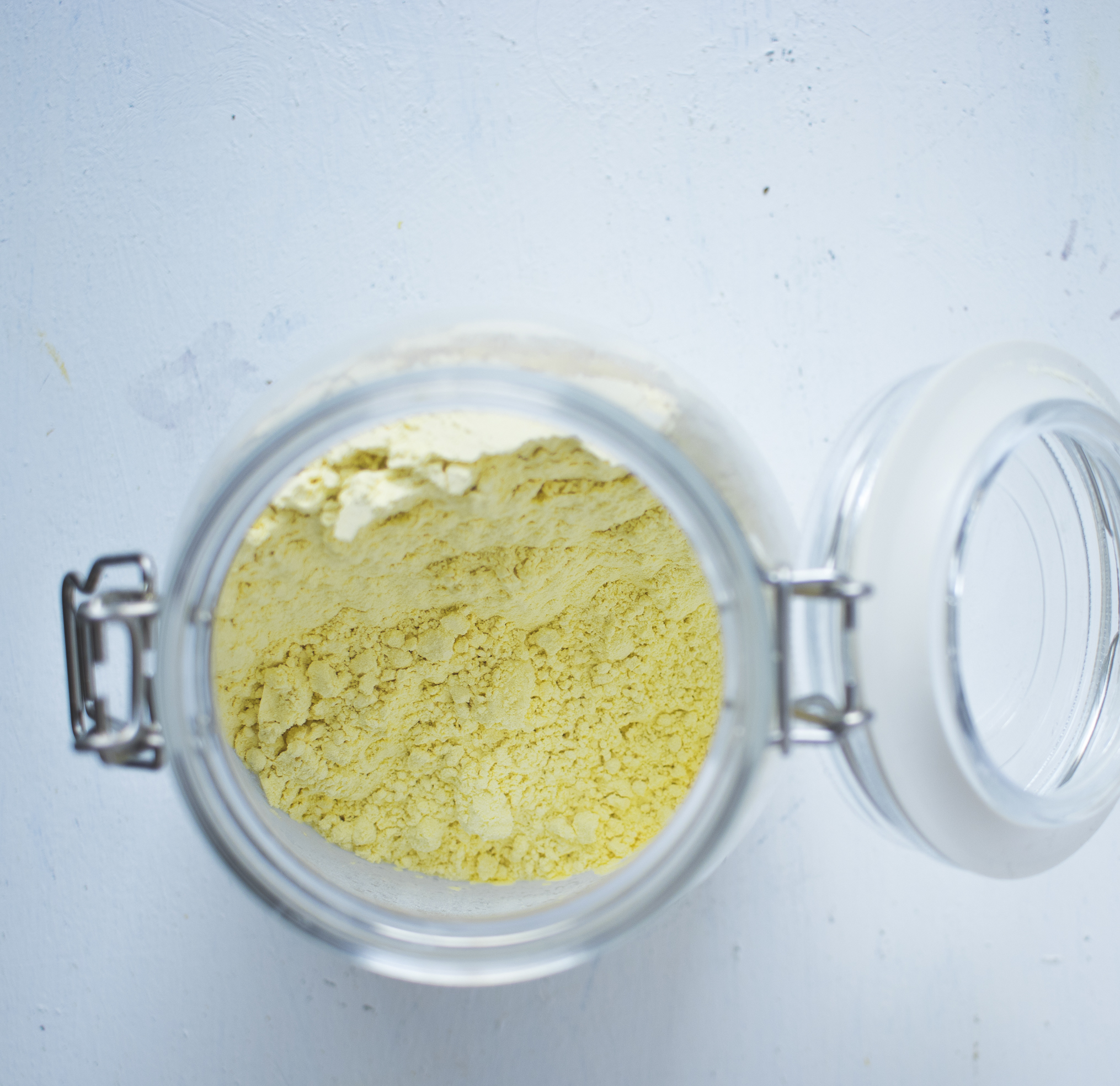 Life really does come full circle, my mum had to persuade me (i thank for that now) to like a lot of foods as a kid, I probably will have to do the same to mine. It might be a little harder because they will grow up here and I grew up in India, but I definitely want them to that half of their culture. How much of it they embrace, I'll leave that up to them. Forcing things on people is not my cuppa tea, introductions yes.
These Vegan Chickpea Omelettes taste best when served hot and fresh right off the griddle with tomato ketchup, your favourite hot sauce or these tangy and spicy Green Chutney. I always make a few extra, because even cold these omelettes make an excellent snack that is healthy yet leaves you feeling full for a long time.
Vegan Chickpea Omelette
INGREDIENTS
1 1/2 cups (175g) besan (fine chickpea flour)
1/2 tsp turmeric powder
1/2 tsp baking powder
1/2 tsp ajwain (carom) seeds
1/4 tsp red chilli powder (optional)
1 tsp coriander powder
1 tsp sea salt flakes
1 1/2 cups (375 ml) warm water
1 medium tomato, deseeded, chopped
1 red onion, finely chopped
1 long green chilli, sliced
a handful of cilantro leaves, chopped
olive oil, for frying
METHOD
Put the besan, chilli powder, ajwain seeds, salt, baking powder, turmeric, coriander, and water in a medium bowl. Whisk it until the mix is smooth. Kiind of like thick pancake batter. Set aside for 5-10 minutes.
Heat a medium size saucepan/crepe (it should be flat wide surface) pan on medium-low. Drizzle some olive oil about 1/2 teaspoon on the pan. Using a deep cupped spoon or ladle, gently pour half a cup of batter on the pan. Now using the back of the ladle, swirl the batter fanning out from the centre so it spreads in a circular shape towards the outside spreading away from the centre.
Turn up the heat to medium and let the batter cook for 1 min. When bubbles start to appear on the surface, scatter onion, tomato, green chilli and coriander leaves on the surface. Note this happens really quick so you dont want it to dry comepletely of else your garnishes wont stick and will fall everywhere.
Press the garnishes down lighty with the back of a flat spoon.
Now slowly flip the omelette to cook on the side with the vegetables for 1-2 minutes.
Turn over on to the plate and serving immediately with green chutney or a spicy sauce. Repeat with the remaining batter and veggies.
NOTES
You may need to change the amount of water added to this recipe according to how coarse or fine the chicke pea flour is. Add water if you feel its too thick and add some flour if you feel its too thin.
You can even enjoy these with yogurt if you are not vegan.