If you are someone who is as passionate about eggs as me you are going to love these Creamy Garlic Parmesan Scrambled Eggs. They are such a simple ingredient, and when cooked well can take a regular meal to new heights. Luscious, with a hint of garlic and lots of cheesy goodness, you really can't go wrong. Eaten as is or with a piece of toasted bread or even a salad when you want to keep your meal light. I mean this is the only kind breakfast I want most days.
Tips To Make Perfectly Soft and Creamy Scrambled Eggs
The Eggs – when you make simple dishes like this. It is essential to ensure that your ingredients are fresh. No, you don't need to buy expensive eggs for this to taste good. You just need to make sure they aren't stale or old. Just the check the sell by date before buying at the store.
Cheese – Yes real parmesan is going to taste better. But there are lots of decent grocery store brands that will do the trick just right. Remember to use a the fine side of you grater to get light feathery shards which will melt seamlessly into the eggs.
Heavy Cream – Adding heavy cream, gives you a little more leeway when cooking scrambled eggs and this way there are less chances of overcooking them into a rubbery mess. Cream also adds a nice richness to the texture to get those silky curds at the end.
Pan – Use a non toxic, non-stick pan or a well seasoned cast iron to make eggs is the safest bet to silky eggs. I have found that in other pans the eggs stick to the bottom immediately!
Agitating – Use a fork or spatula to gently agitate your eggs as soon as they hit the pan. Do this by using circular motions while moving the pan with your other in the opposite direction. This helps breaking the proteins down while also mixing those curds.
Cooking temperature – Do not raise the heat to more than medium when making scrambled eggs. Controlling the heat is helps gently break the proteins down instead of seizing them right up and causing your scramble to turn brown. Aim for a golden-yellow custard color as your marker.
Now that you have all the tools you need to make these Cream Garlic Parmesan Scrambled Eggs that are soft and luscious every time. Level up your breakfasts in no time! And accompany that with a delicious margarita like one to enjoy the ultimate brunch at home. Check our more recipes here.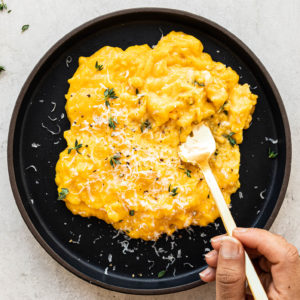 Garlic Parmesan Scrambled Eggs
Creamy Garlic Parmesan Scrambled Eggs are irresistably soft with just the right amount of cheesy goodness that are perfect with a piece of toast!
Ingredients
4 eggs
1/4 cup grated parmesan
3 tablespoons heavy cream
1 garlic clove grated
1 tablespoon unsalted butter
Fresh cracked black pepper for garnish
Flaky salt for garnish
Herbs (chives, parsley or thyme) for garnish
Instructions
To a bowl, add cracked eggs, parmesan, cream, garlic and whisk to combine.

Melt butter in a non-stick pan with butter on medium heat.

Add eggs. Using a fork or spatula agitate the eggs to break up the curds continuously in circular motions. Rotating the pan with your other hand. Cook the eggs until the eggs resemble loose ricotta cheese and and jiggle when you move the pan, about 3 minutes.

Remove from heat and transfer to a serving bowl. Garnish with black pepper, flaky salt, grated parmesan and herbs. Serve immediately.