This blog post is sponsored by Bernzomatic. Creme Brûlée is a custard based, sweet and creamy French dessert with a caramelized sugar topping. Usually made with vanilla, I decided to spice things up and infused it with black tea and a chai spice mix. The result is a luscious chai based custard with warm notes of cardamom, cinnamon, nutmeg and fennel. All the things you want in a holiday inspired treat! These are amazing because you can make them ahead of time and just brûlée them with your bernzomatic torch right before serving, plus it adds a nice "wow" factor for your guests.
Unlike other desserts, this one is daily simple to make as you can see illustrated in the steps below.
Grind all the spices to a fine powder in a spice grinder or mortar pestle.
Whisk eggs and sugar together.
Eggs and sugar are well incorporated.
Bring cream to a boil.
Add vanilla extract, salt, chai spice, salt and tea packets and steep for 10 minutes.
Then slowly add hot infused cream to the egg mixture to temper and make the custard.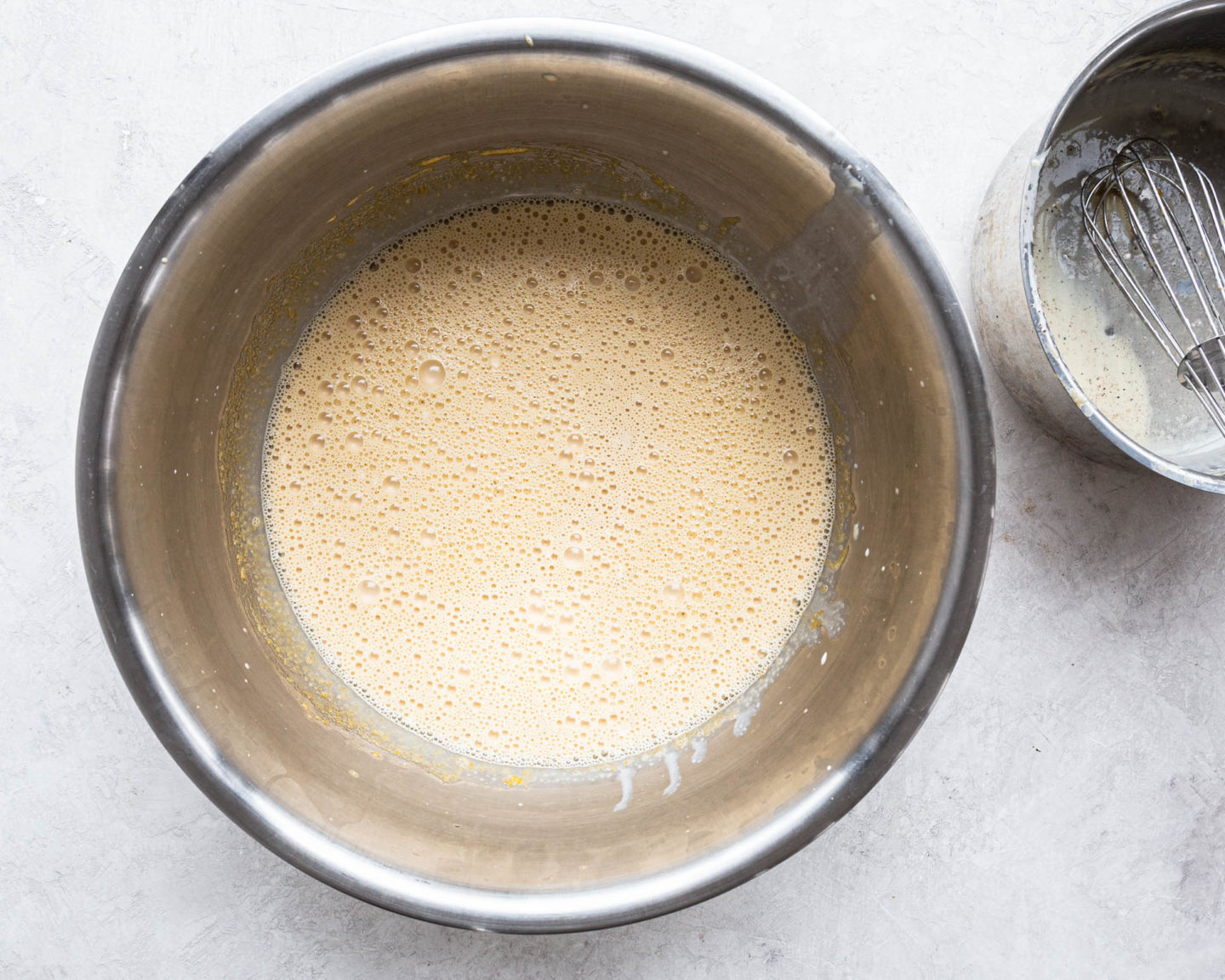 Whisk custard to combine well.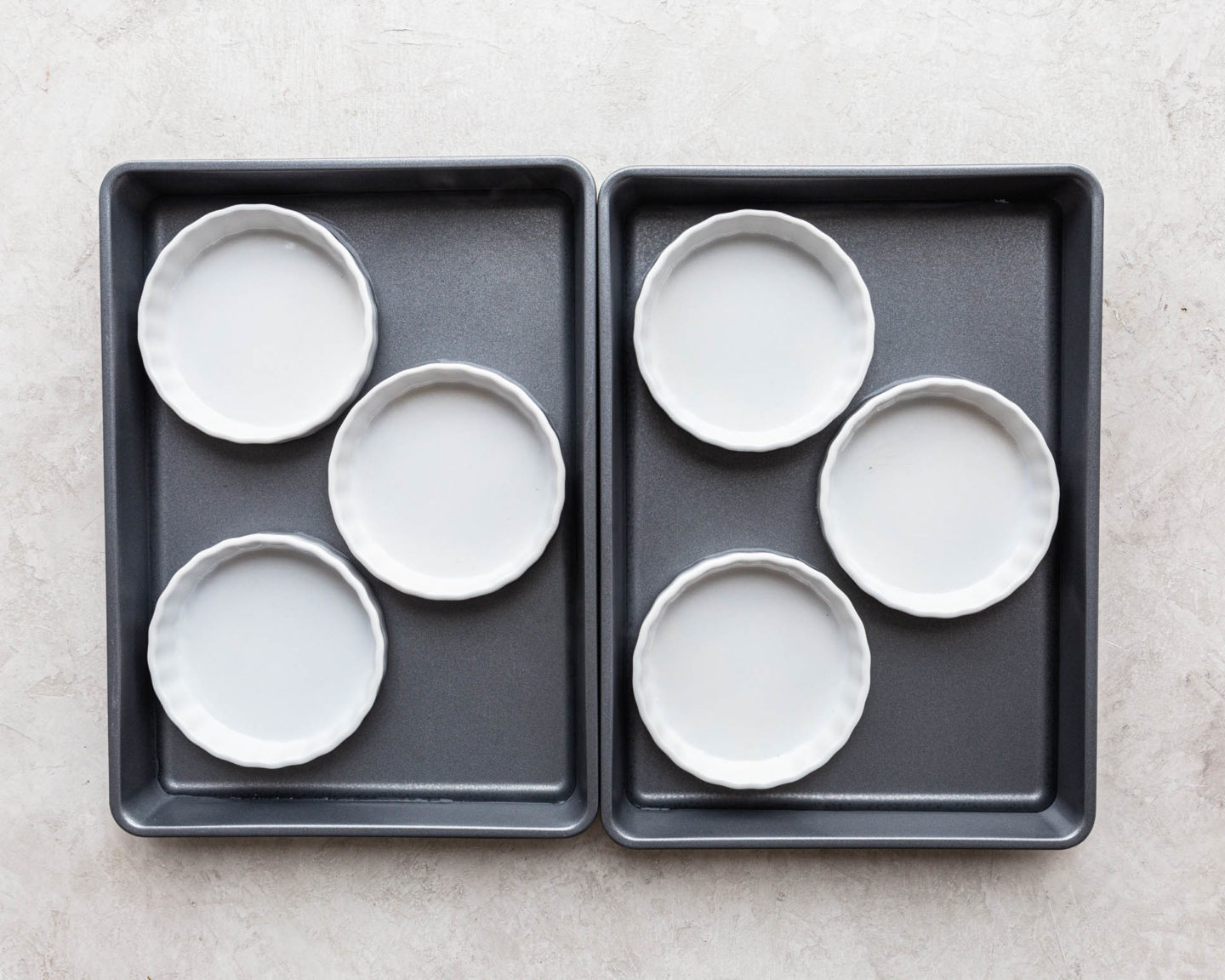 Prep water bath with ramekins and hot water.
Divide custard equally between ramekins and bake at 350F for 30 minutes.
After 30 minutes, remove from the oven and set in the fridge for at least 1 hour.
Sprinkle each ramekin with sugar in an even layer.
Then, fill your torch with butane (if you haven't already) and brûlée using your Bernzomatic ST2200 torch to form a caramelized top and serve immediately.
Tips to make the perfect Creme Brûlée at home.
Ratios – there are two key ingredients in this dessert, heavy cream and egg yolks. Some recipes call for half and half or milk, but I find that using heavy cream only results in a more velvety and rich creme brûlée.
Straining the custard – after tempering the custard, be sure to strain the custard through a fine mesh sieve to catch any yolk bits and bits of loose tea particles. This small extra step is crucial to ensure the custard is smooth.
Water bath – adding water to the baking sheet creates a warm steam bath for the creme brûlée making sure that it heats up evenly without breaking or coagulating resulting in a rich and pudding like custard.
The kind of ramekins – I prefer shallow ramekins which are about 1-inch thick, because it cuts the baking time significantly and increases the surface area. Having a wider surface to work with means more burnt sugar crackle on top, and who doesn't love that?
Baking temperature and time – I have been guilty of over baking my first few creme brûlée's but I have learnt that for shallow ramekins 30 – 35 minutes at 350F is best. Check by shaking the pan back and forth gently, the edges should be set with a jiggly centre. When you see this visual cue then the custard is ready to come out of the oven.
To finish
Resting time – I know you want to sprinkle the sugar and brûlée it right away but allowing the custard set in the fridge for at least 30 minutes is best to allow for a perfectly rich texture.
Blowtorching the creme brûlée – THIS IS THE BEST PART! I begin by sprinkling granulated sugar in an even layer on the top then use my Bernzomatic ST2200T torch to brûlée the top. The precision tip ensures that the sugar caramelizes evenly forming a slightly charred golden brown brittle.
This Masala Chai Spiced Creme Brûlée is a rich and decadent custard with warming spices like cinnamon, cardamom, nutmeg and ginger. This is the perfect holiday dessert for you and family this year!
Masala Chai Creme Brûlée
This Masala Chai Creme Brûlée is creamy with the right amount of warm spiced notes and the most amazing sugar crackle on top.
Ingredients
5 large egg yolks
1/2 cup granulated sugar plus more for sprinkling
3 cups heavy cream or heavy whipping cream
1 teaspoon chai masala recipe below
1 teaspoon pure vanilla extract
1/2 teaspoon kosher salt
3 black tea sachets
Masala chai spice mix
1 teaspoon cinnamon powder
1 teaspoon ginger powder 
1 teaspoon cardamom powder 
1 teaspoon whole black pepper
1 teaspoon fennel seeds
1/2 teaspoon nutmeg powder
1/2 teaspoon clove powder 
Instructions
For Masala Chai Spice Mix
Add all ingredients to a spice grinder and blend into a fine powder. Store in an airtight container in a cool dark place and use as needed.
To Make Masala Chai Creme Brûlée
Preheat oven to 325F.

In a heavy bottom medium sized pot, add cream, chai spice and bring to a simmer. Add vanilla extract, salt, and black tea sachets and let it steep for 10 minutes.

In a separate pot, bring 4 cups water to a boil and remove from heat. Set aside.

To a large bowl, add egg yolks, sugar and whisk until light and fluffy.

Take ½ cup of hot cream and gently stream while whisking with the other hand to temper the egg yolk and sugar mixture. Repeat with another ½ cup. Then add remaining mixture and whisk to combine

Using a fine mesh strainer, strain the mixture into another bowl.

To prepare water bath, place ramekins in a deep edged sheet pan and pour boiling water half way up around the ramekins carefully making sure that water doesn't splash into them.

Divine custard equally into six ramekins and bake for 30 minutes. Check by gently nudging them, when the centre jiggles and sides are relatively set. The centre should not be liquidy buy barely set.

Cool in the refrigerator for an hour.

To serve, sprinkle 1 tablespoons of sugar on each ramekin. Then use a Bernzomatic ST2200 torch to brûlée the top until all the sugar has caramelized with a deep golden and a charred brittle has formed. Rest for 30 seconds until the sugar hardens.

Serve immediately.