This blog post is sponsored by Bernzomatic. Potatoes and cheese, what could go wrong? Gratin or Pommes Dauphinois is a French casserole style dish where potatoes are soaked in a garlic cream mixture, then baked with cheese with a brown crust. Which is why this recipe was the perfect pick for me to put my Bernzomatic BZ4500HS torch to use.
Tips for making the perfect potato gratin
Slicing potatoes – slicing the potatoes about ⅛ inch in thickness will make sure they cook evenly. I recommend using a mandolin because it is much easier to get even slices. You can also use a really sharp knife to achieve this, although I will admit it takes much more precision and a fair amount of practice to get the same result.
Choosing your cheeses – you could use just one or two types of cheeses but find that using three kinds gives me the right amount of gooey with some pull and the right amount of nutty flavor. Which is why I used a combination of sharp cheddar, gruyere and parmesan.
Cooking vessel – a skillet that is 10-inch wide and around 2-inch thick works perfectly or opt for a square 8×8 casserole dish. Using something that is too thin will not have enough space for layers of the potato gratin. The cheese and cream will spill over and cause your oven to get smokey. Although I do recommend adding a sheet pan under the skillet so avoid any minor spillage.
Brown layer on top – the best part about a potato gratin is the charred crispy top. Sprinkle an additional layer of cheese on top after it comes out of the oven. Then use your Bernzomatic BZ4500HS torch to brown it evenly!
Follow these step by step instructions for the recipe below.
Gather all you ingredients.
Start it with a 10-inch skillet.
Arrange potatoes in a layer in the skillet.
Sprinkle with a layer of cheese.
Arrange the second layer of potatoes.
Arrange the second layer of cheese.
Arrange the final layer of potatoes.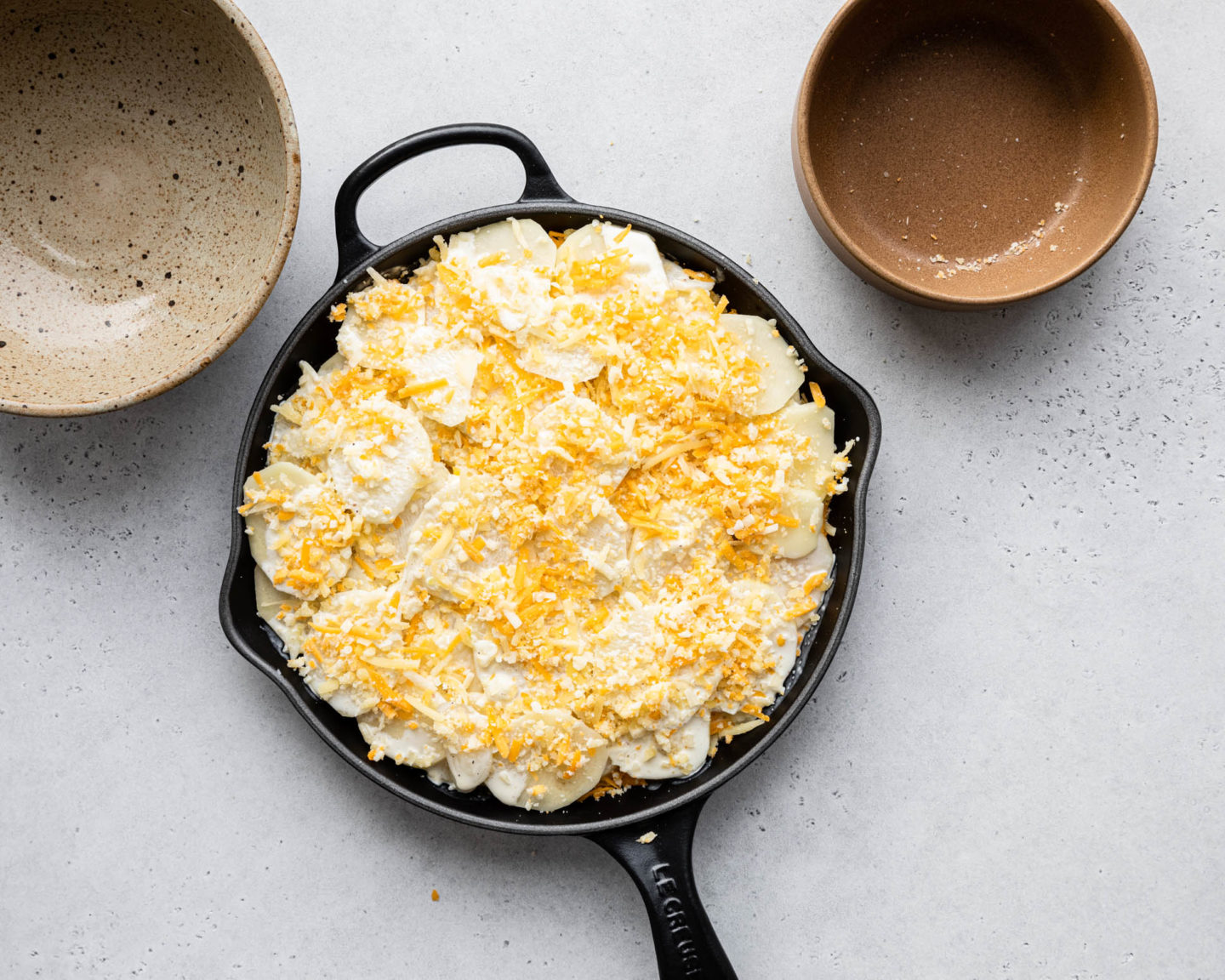 Sprinkle the final layer of cheese.
Then, use your Bernzomatic BZ4500HS torch to char the top of your potato gratin and serve immediately.
Cheesy Potato Gratin with Garlic and Shallots
Scalloped potatoes with cheese and garlic in a cream sauce with a golden cheese top.
Ingredients
1 ½ cups heavy cream
½ teaspoon nutmeg
4 garlic cloves thinly sliced
1 shallot thinly sliced 
 2 ½ pounds Russet potatoes peeled
4 ounces Gruyere grated
4 ounces Parmesan grated
4 ounces sharp cheddar grated
1 teaspoon kosher salt
Thyme leaves for garnish
Instructions
Preheat oven to 400°F.

In a small saucepan add cream, garlic, nutmeg and bring to a simmer over medium heat, about 6 minutes. Remove from heat. 

In a medium bowl, mix the 3 cheeses together, until well combined. Separate ½ cup of mixed cheese aside. 

Using a mandolin slice potatoes ⅛ inch thick and immediate place in a large bowl of cold water. Pat completely dry using a paper towel.

In a 10 inch skillet, arrange potatoes in a single layer at the bottom, then top with ¼ cup of cheese. Repeat until you achieve 3 layers of potatoes and cheese until everything is used up (reserve the ½ cup that was aside earlier for the top). Then pour cream mixture over and sprinkle with remaining ½ cup cheese. 

Shimmy the skillet to ensure cream is evenly distributed. Bake in the oven for an hour until potatoes are fully cooked. 

Remove from oven and sprinkle with remaining cheese. Then use a BZ4500HS Bernzomatic torch to char the top until golden brown. Sprinkle with thyme leaves and serve immediately.