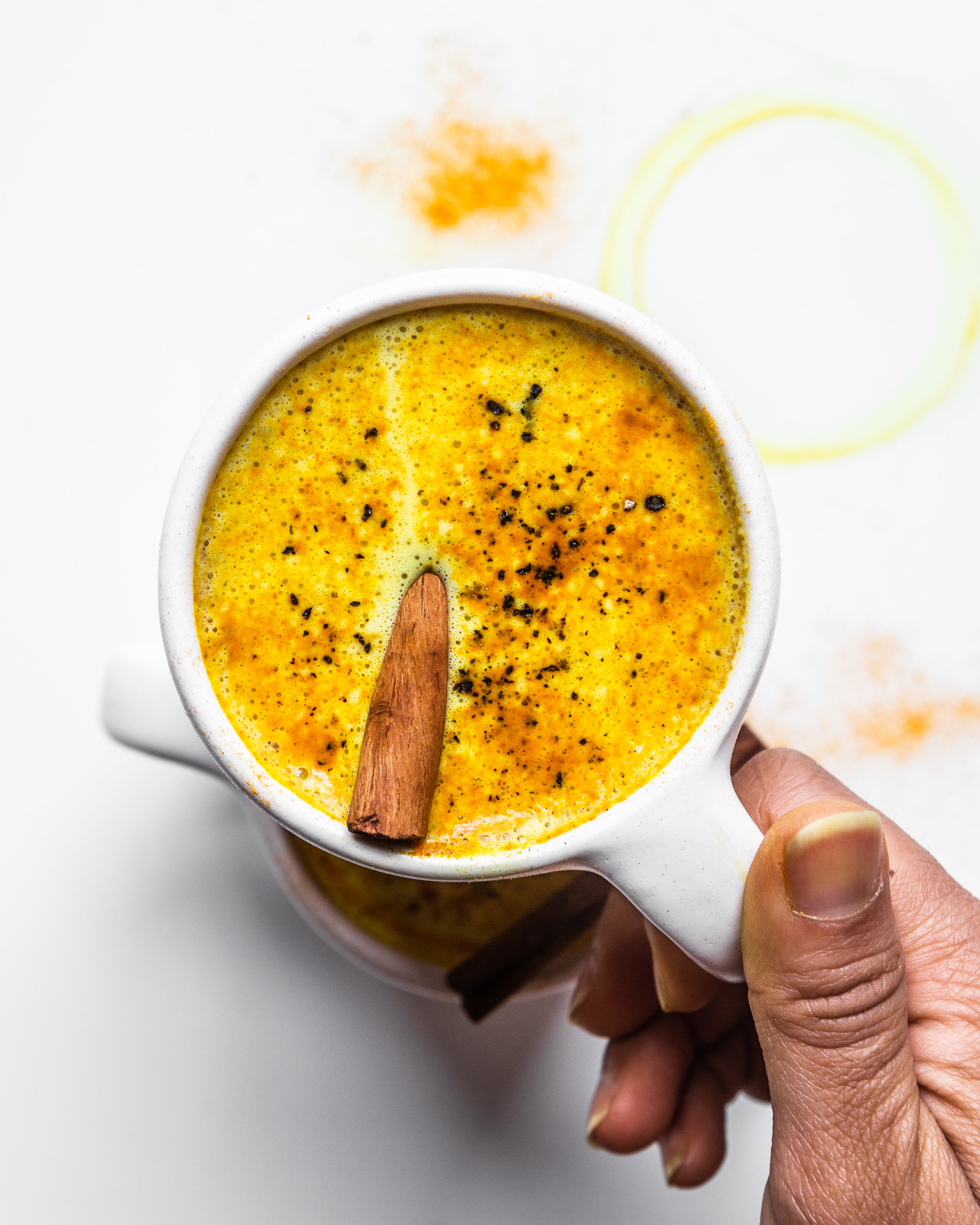 When I need something warm and comforting that instantly makes me feel better. I stop everything and make myself a cup of this delicious Golden Turmeric Milk. Then I take a minute to kick back and enjoy this utterly nostalgic cup while thinking of all the times my mother used to make it for me and which I definitely did not appreciate as a kid. Sorry mom!
Turmeric has a huge cultural and religious significance in Indian culture, used to while offering daily prayers to gods, in all religious and wedding ceremonies. Apart from that turmeric is also heavily used in Indian cuisine.
Like many other Indians, I too have a lot of fond memories attached to turmeric milk. It is the what all mothers, grandmothers and their mothers made when you had a cold or weren't feeling too well. You see, they were aware of the incredibly healing properties of this magical concoction.
Turmeric is staple in my spice box and I do not know a time without it in the kitchen! I use it in ALL my recipes, no exaggeration. You would be surprised to learn that turmeric powder helps to stop minor cuts and burns from bleeding, I often sprinkle it over when I've had a small mishap in the kitchen and its antimicrobial and anti inflammatory properties totally save the day!
While my mum made a simpler version of this turmeric milk, I like adding other spices like cloves, ginger, black pepper, nutmeg, vanilla and Ashwagandha powder (an adaptogen known to have stress and anxiety relieving properties). I tend to crave turmeric milk more often in the colder months, drink it in any day you like!
Things to love about this recipe
Easy to make. This turmeric milk takes less that 10 minutes to prepare.
Mood boosting and anti inflammatory. Turmeric has many health benefits. 
Easy to substitute.This recipe can be made with pretty much any milk you like, soy milk, oat milk, coconut milk, hemp milk etc. 
Budget friendly. Only requires a few pantry essentials to make this recipe. 
I hope you will give this recipe a try and incorporated turmeric in your everyday cooking like me. Some of my other turmeric recipes include this delicious Cabbage Stir Fry and Vegan Chickpea Crepe.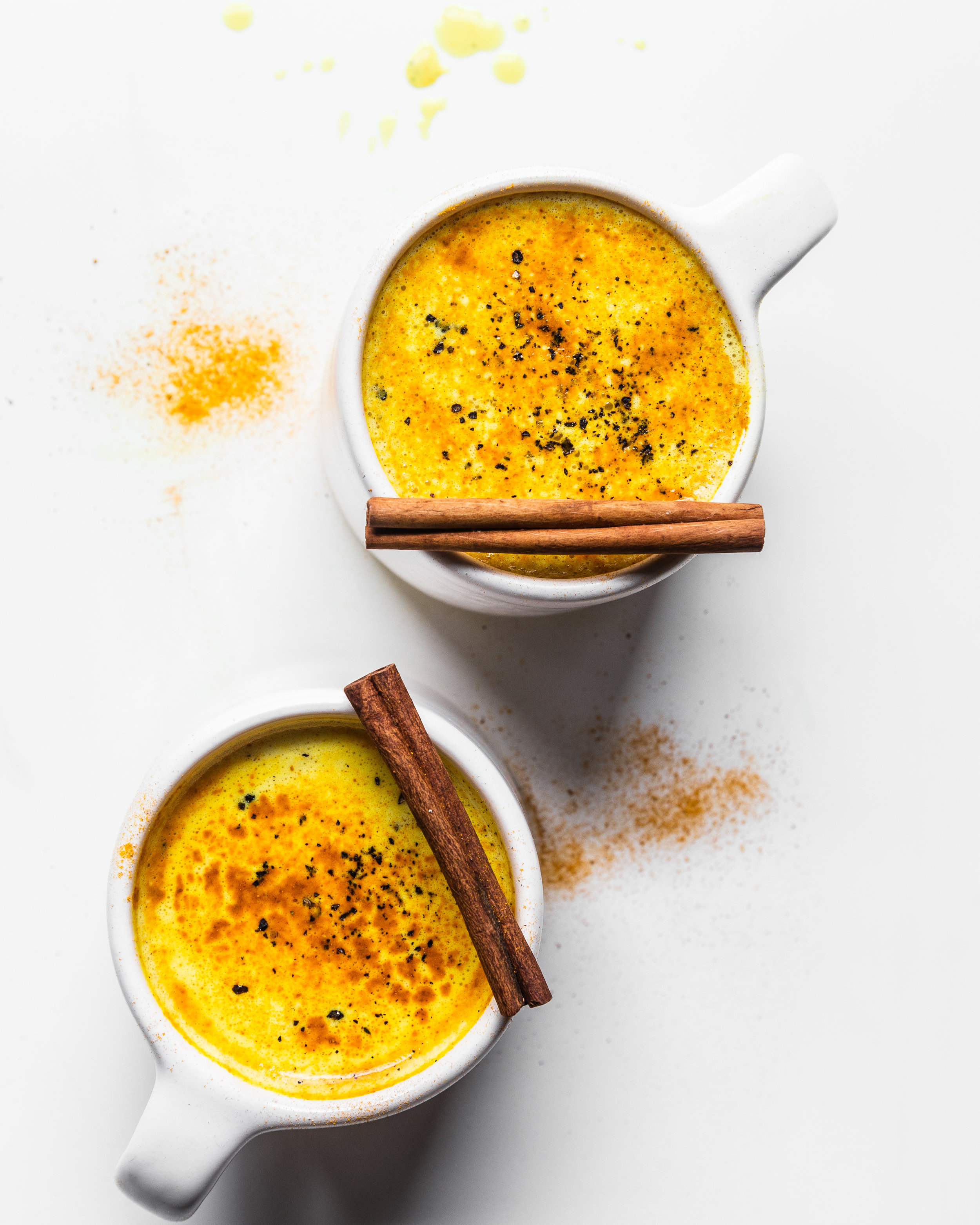 Golden Turmeric Milk
Golden Milk is a traditonal Indian ayurvedic drink, made with turmeric powder, honey, and black pepper. It is nutritious and delicious, very easy to make.
Ingredients
1 1/2 cup plant milk or preferred milk, i used coconut.
1/2 cup water
1 tablespoon honey or preferred sweetner
1 teaspoon turmeric powder
1/2 teaspoon vanilla essence
1/2 teaspoon ashwagandha pwder
1/4 teaspoon clove powder
1/4 teaspoon ground black pepper
1/4 teaspoon ceylon cinnamon
1/8 teaspoon nutmeg powder
1 cinnamon stick for garnish
Instructions
To a medium sized pot, add all the ingredients and bring to gentle simmer.

Add this to a blender and blend for 30 seconds or use a milk frother to blend and make foam.

Pour into a cup, garnish with fresh cracked black pepper, cinnamon stick and serve hot.